Refinery Data Model
The ACo REFINERY DATA MODEL V2.0 has been released and is in operation at a major European Refinery for over six years.
The ACo REFINERY DATA MODEL is a complete conceptual model of a refinery. The model covers all areas of a refinery MES system. The model represents the culmination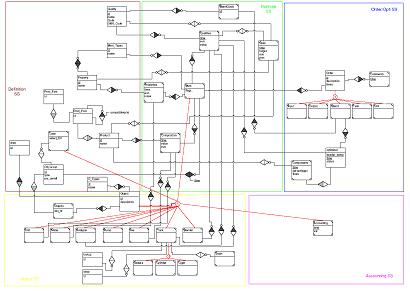 of several decades of combined engineering and system know-how. ACo used a decade of field tested experience to design a data model that provides the framework to build a system, with the flexibility to fit to different types of operations.
The ACo REFINERY DATA MODEL was developed in Microsoft Visio in conceptual object oriented normal form for transparency and ease of use.
The ACo REFINERY DATA MODEL is a tool for design, analysis, and/or implemention by management, engineers and programers.
The picture to the right is the upper most level of the model.
Key features and functions of the ACo REFINERY DATA MODEL:
All major systems and subsystems of a refinery are represented.
Conceptual Object Oriented Normal form:

Easy to understand
Easy to implement

Developed using the latest database modeling techniques
Scalable design is applicable for large or smaller operations
Modular design can be subdivided for partial application
Drill down functionality keeps the display from becoming overcrowded with unnecessary details
Contact us for more details and to arrange an on-site presentation.
Albrecht Software Consulting GmbH is registered in the commercial register (local court) Vienna under the number 182517h. The VAT registration number of Albrecht Software Consulting GmbH is ATU47114304. © Albrecht Software Consulting GmbH 2015. Simmeringer Hauptstraße 36/2/VIII, 1110 Wien T: +43 1 920 7913 E-Mail: info@albrecht-consulting.com General manager: John L. Albrecht