Blend Selector
What is the ACO BLEND SELECTOR ?
BLEND SELECTOR

is a stand alone Windows desktop productivity tool. It allows the user (scheduler, operator, engineer) to easily hold and compare any number of off-line blend optimizer results (and the corresponding blend order) with a few simple mouse clicks:

BLEND SELECTOR

is a complementary product to:

AspenTech's AspenBlend application;
AspenTech's ProBlend application;
Invensys BOSS; or
Any table based optimization system
Key features and functions of BLEND SELECTOR :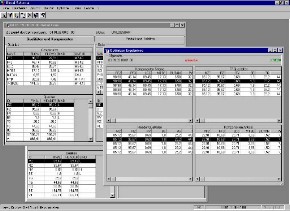 A single mouse click uploads the off-line optimizer results
Results are viewable in several user customizable formats for easy comparison
A scalable window allows the user to optimize the desktop area used
Results can be held on the individual's desktop as long as desired.
A single mouse click downloads and updates the selected blend
On line, context sensitive help, in German or English
No user customized Excel spreadsheets or paper and pencil required
No special training required (although its available on request)
No special equipment or expensive hardware
The user can play what if scenarios which previously would have taken piles of paper or hours of Excel table manipulation. This allows the user to concentrate on the blend optimization, and not on the blend optimization tool. The results:
Faster optimizations
Superior blend recipes
Improved profitability
Future developments for BLEND SELECTOR :
Further compatibility with AspenTech's AspenBlend application
Further compatibility with Honeywell's BLEND application
Further compatibility with Invensys' BOSS application
Contact us for more details and arrange an on-site presentation.
Albrecht Software Consulting GmbH is registered in the commercial register (local court) Vienna under the number 182517h. The VAT registration number of Albrecht Software Consulting GmbH is ATU47114304. © Albrecht Software Consulting GmbH 2015. Simmeringer Hauptstraße 36/2/VIII, 1110 Wien T: +43 1 920 7913 E-Mail: info@albrecht-consulting.com General manager: John L. Albrecht